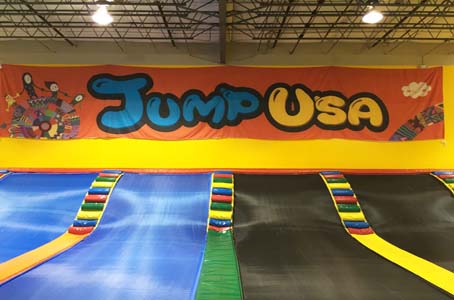 Welcome to JUMP USA Trampoline Park
JUMPUSA Trampoline Park is an indoor sports and recreation center for families and friends. Everyone including small children can play, exercise, and enjoy being with family members and/or friends. The park is consist of uniquely designed gigantic trampolines, nicely decorated private party-room sections, gaming areas, snack/merchant corners, waiting areas, inflatables/trampoline for younger children, and etc. The party-room section is designed for birthday parties for children as well as for any type of private parties and special occasions. This brings family members and/or friends together at a place where everyone can play, exercise, or just have fun.
Key advantages of our trampoline park
•    A convenient, easy-to-use, and relatively lower cost solution for parents to have birthday parties for their children
•    An indoor play-ground that is safe for anyone including children to jump and play with his/her family members and/or friends
•    Specially designed and patented trampolines that combine both entertainment and exercise without being stressed on joints and bodies
•    Truly a unique trampoline facility for people of all ages to come and play whether it is for student group events from schools or team building events from companies
JUMP USA Trampoline Park Facility Details:
JUMP USA is a facility built with patented Gigantic Trampolines ("Jumpolines") that provide exercise and fun simultaneously
10,000 sf main trampoline
Two Dodgeball area
Zorb Water-Ball Park
We specialize in Children's Birthday Parties
We have 8 birthday party areas
JUMP USA is open to the public seeking for entertainment. Jumping on "Jumpolines" consumes tremendous amount of calories (approximately 400-600 an hour!) without strains on joints or body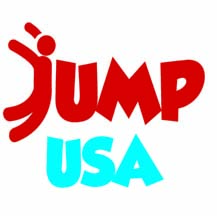 Our Mission Statement
Our goal is to provide a JumpSafe, clean, fun trampoline experience for every customer who enters our doors. Our continued innovation and focus on safety ensures that each and every visit will create memorable experiences for both our customers and staff.
— Jump USA Park